720 Varick Street
Utica, New York 13502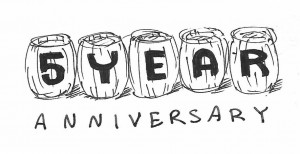 Come help us celebrate our fifth year as Nail Creek Pub & Brewery on Saturday, June 8. The live music will get started at 2:30 p.m. with Moho Collective and continue until about 1:30 a.m. (Sunday) on two stages.  Admission is $10 in advance and $12 at the door.
The lineup includes: The Moho Collective, The Rusty Doves, The Crazy Fools, Sassafras Jenkins, Strung Sideways and more. The inside stage is headlined by The Brain Mulkerne Trio.
We'll be tapping all New York state beers as well as, a few special kegs, including a few pins. As we finalize the beers we'll post them. In addition, we'll only be serving traditional lunch until 2:30, and serving our Freakin' Awesome Tacos from 3 to 11 p.m.
Oh, our anniversary is officially May 23, but all this celebrating seems a bit much for a Thursday.